*Flashtalking & Jivox are the only supported DCO providers.
Creative Assets:
DCO Asset URLs from 3rd party vendor

Backup headline, description and image in order to build the unit in Yahoo DSP, to serve only in the instance where DCO creative serving fails.
Once you are logged into the Yahoo DSP, you can make a new Native display unit.
1) Navigate to the Creatives Page and select Create a Single Creative from the Create/Upload dropdown.
2) Choose "Native" as Ad format.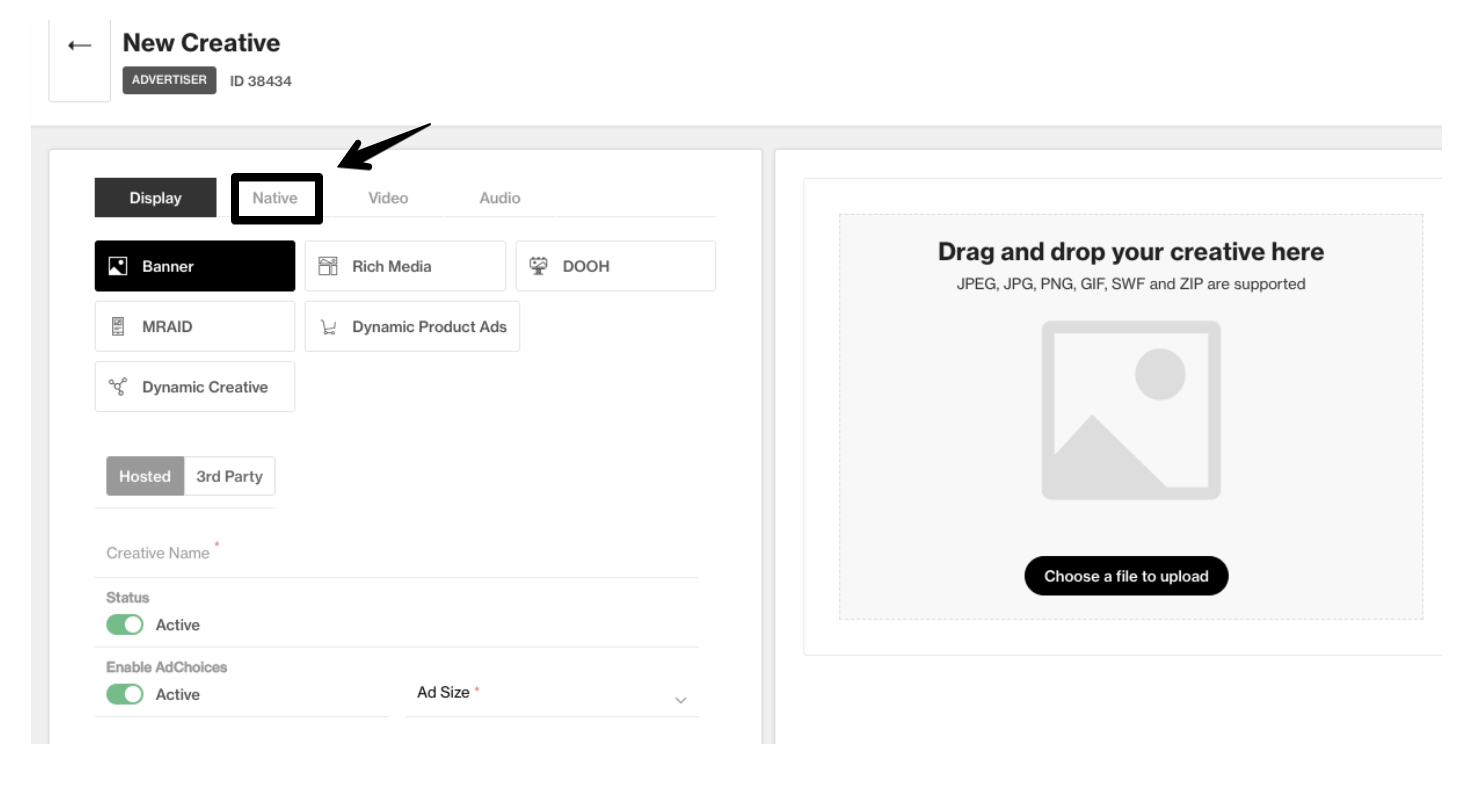 Below is the ad copy and assets that will serve in the event the DCO creative fails:
For Advertiser Name, type the company name the way you want it to appear in the ad. Maximum 25 characters.

For Ad Title, enter the title of the advertisement that the user sees. It should be a short, catchy phrase designed to attract attention. Maximum 50 characters.

For Ad Description, include one or two sentences describing your product or service. The ad description should include a call to action. Maximum 200 characters. Note that some SSPs limit the number of characters in the ad description. Refer to Ad Description Limits.
3) Upload images
A creative that's at least 1200 X 627 pixels for the main creative image in the ad.

A creative that's at least 82 X 82 pixels for the advertiser's brand logo.

A creative that's at least 200 X 200 pixels for a mobile image (recommended for serving on Yahoo native inventory).

A creative that is at least 627 X 627 pixels for the mobile web image.
Upload the images you want to use for the creative. Click Choose File or drop the image into the drop zone for each creative size. The images can be .jpg, .gif, or .png files with no animation, and they can be up to 2 MB.

4) Enter your DCO creative URL in the field as an additional "Impression Tracking URL." This URL will call your DCO creative unit set up with your DCO vendor and will serve that creative in the place of the backup Native Display Ad you build in Yahoo DSP.
Flashtalking example url:
https://nativead.flashtalking.com/imp/4/77365;2517447;201;js;Sharethrough;nativeaddemo/
Jivox example url:
http://as.jivox.com/native/native_ad.php?creativeUnitType=81&campaignId=110188&siteId=158938acce26a4&es_pId=uApz47&partnerId=ST&format=json&ver=2&responseFormat=2